Hydroelectricity and dams
In 1980, Hydro-Québec oversaw the installation of the LG-2 Dam on the La Grande River in James Bay. Thanks to this dam and many others, Quebec is one of the largest producers of electricity in North America. The creation of hydroelectric dams is possible because of the territory's relief.
The creation of the LG-2 Dam on the La Grande River in James Bay had large political impacts. Cree, Inuit and Naskapi communities were worried about the impacts the dam would have on the land, animals, and their ways of life. Representatives from these communities fought to have their concerns heard. Eventually, this led to the negotiation of the James Bay and Northern Quebec Agreement and the Northeastern Quebec Agreement. Even today, these agreements have big political implications on Indigenous autonomy and the obligations of the Quebec government.
Source: https://www.thecanadianencyclopedia.ca/en/article/james-bay-and-northern-quebec-agreement
The beginning of the century
The first hydroelectric dams were built by private companies on the rivers of southern Quebec, such as the Saint-Maurice River. At the beginning of the century, large private companies like the Shawinigan Water & Power Co. and Montreal Light Heat and Power controlled the production and distribution of electricity
The creation of Hydro-Québec
During the first half of the century, the Quebec government had left the control of the production of electricity in the hands of private companies. However, in 1944, it decided to intervene by buying the Montreal Light Heat and Power to create Hydro-Québec. The Quebec government did this because electricity prices were very high, especially in Montreal. Hydro-Québec made a commitment to provide electricity at a reasonable price to all consumers in the region of Montreal.
Source: Archives de Radio-Canada, Détourner les eaux, 3 mars 1991.
Electrification
During the years following World War II, power consumption increased quickly in Quebec, particularly because of the large number of electrical appliances found in homes. The government also passed a law to promote rural electrification. In 1945, only 19% of farms in Quebec had access to electricity. In 1955, 90% of them had access.
Nationalization
In 1962, the Quebec government became more involved in hydroelectric production by nationalizing electricity, meaning they bought all private electricity companies in Quebec to merge them with Hydro-Québec. The corporation conducted large-scale hydroelectric projects such as the Manicouagan River and the La Grande River.
Author:
Alexandre Lanoix. Additions and Adaptations by LEARN.

See also – Links:
Teacher resources:
Teachers note that there is also a Cartograf mapping scenario available
entitled Nationalization of Electricity et aussi La nationalisation de l'électricité !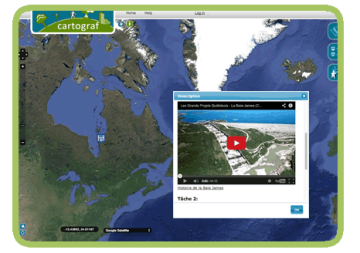 To view an actual dam site view:
Quickly check your knowledge: